By Matthew Hannah and Heidi Kaufman
Just a friendly reminder that we are meeting today to play with Voyant and Juxta, in Lillis 111, from 3-5 p.m. (Voyant/Juxta RSVP). We hope you will join us and learn more about these easy-to-use digital tools. We also draw your attention to the upcoming Workshop on R environment (for beginners): Feb 18 from 5:00- 6:50 pm in McKenzie 123 and Research Interest Group Meeting (coffee and snacks provided): February 26th, 2-4 p.m., in McKenzie 122. As always, everyone is welcome, and we look forward to seeing you there!
Have you ever been interested in geographical mapping as it relates to humanities research? Many of us have thought about the interesting work that could be done if we mapped historical or fictional locations onto real-world maps. What would such work reveal? Franco Moretti demonstrated some of the possible applications of such geographical attention in his now famous study, Atlas of the European Novel, in which he created geographical visualizations of the plot locations found in literature. But what other projects could we consider?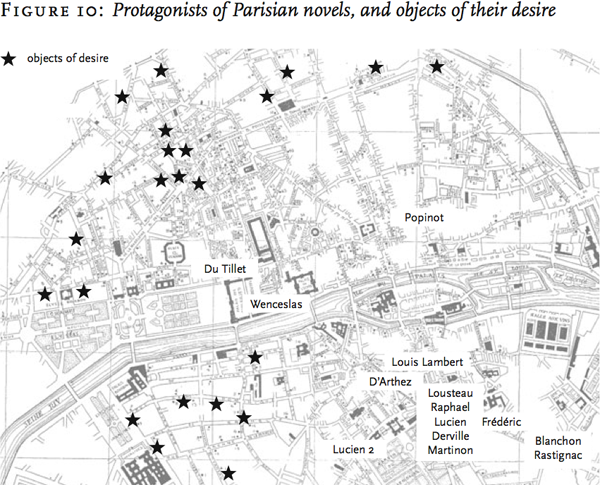 For our next few Thursday Reviews, we will turn to a subset of DH tools that allow us to answer this question, and we will look at projects that offer exemplary applications of those tools. The first project we will cover is Allison Muri's Grub Street Project (launched in 2005). Unlike some mapping sites, which offer digital maps with important locations annotated throughout, Muri offers what she calls, drawing from Foucault, "heterotopias," which she defines as "visualizing the materiality of the city alongside its imagined literary topographies." That is, Muri combines to Digital Humanities scholarly genres, the digital edition and the digital map, into one project "mapping space to books."   
Using Alexander Pope's The Dunciad as an example, Muri demonstrates the power of combining digital editions, in which a text is annotated via hyperlinks or XML markup, which allows the reader to access a dynamic, fluid scholarly edition, and mapping, in which literary or historical locations are plugged into a zoomable, searchable map. Looking at this page from the text, you can see how this might work: a box opens on the word "Fleet Ditch," which offers users the ability to select from six options: maps, people, events, publications, images, and references. Thus, the "edition" function allows users to explore more widely than many scholarly editions do (even digital ones).
If you choose "map," you can see a map of the ditch drawn by John Strype from his survey of London and Westminster (1720). Or you can select "references" and track other texts published prior to The Dunciad that mention the ditch. Or you can select images and see different drawings associated with "Fleet Ditch."
This is made explicit in some of the material that is working on the site. I decided to take a "tour" of The Dunciad. Clicking on "tours," I am transported to a historically accurate map with locations from the poem highlighted. In a sidebar, I can see a list of locations from the book and can choose where I want to "go." I'm a huge coffee fanatic, so I decide to tour the coffee shops. When I look at the options, I see eight coffee shops mentioned. I decide I'd like to go to Button's Coffee Shop, click on it, and am whisked to a section of the map with locations marked.
The Grub Street Project is unfinished, but the promise of such a mapping project is already clear. Rather than rely on the text itself, this project expands our conception of text to include maps, drawings, and other texts. Beginning in one location, one may find herself in a totally different spot by the end of a search. In a sense, this project offers a networked approach to a text rather than simply a scholarly edition.